Holiday Shopper Segments
---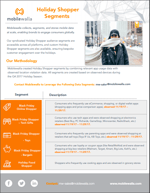 Reaching your target customers during the holiday season can be challenging due to an increase in marketing activities from your competitors.
Mobilewalla provides syndicated Holiday Shopper audience segments to help marketers and advertisers personalize campaigns, deliver ads to their ideal customers, and enhance customer engagement.
In this datasheet you'll learn:
The various Holiday Shopper audience data segments Mobilewalla offers

How leveraging holiday shopper audience data segments enhance customer engagement and improve ROI during the holiday season.

How to quickly activate Mobilewalla's holiday shopper segments across the DSP or DMP of your choosing.
Download the datasheet to view Mobilewalla's holiday shopping segments that can increase the effectiveness of your holiday marketing campaigns and drive more sales.