Download the Technology Brief: TV Measurement and Attribution At Scale
---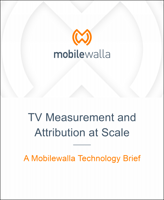 Until now, it's been difficult, if not impossible, to accurately measure television consumption analytics down to the household and individual level.
Learn how data scientists and marketers can gain detailed audience insights to solidify consumer research and enhance marketing results with TV measurement and attributions.
In this technology brief, you will learn:
The top three disadvantages of panel data;
TV measurement and attribution challenges;
Mobilewalla's methodology for mapping TV content to households and individuals;

Complete the form to leverage Mobilewalla's TV measurement and attribution at scale to drive accurate results and improve ad performance.