Download the Checklist: How to Choose A Data Provider
---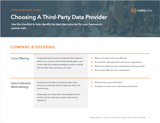 Choosing a consumer data partner can be a daunting task; the ecosystem is crowded and it is often difficult to tell which provider has the best solution to meet your needs.
This annotated checklist outlines the critical questions to ask a potential consumer intelligence provider, starting with general company information, then methodologies, and finally, activation.
Complete the form to receive your copy of the "How to Choose a Data Provider" checklist.