Data Provider Checklist:
Choosing A Third-Party Data Provider
---
Third-party data providers help marketers, data scientists, agencies, and other data partners enrich their existing data to discover and leverage new consumer insights.
However, the consumer data ecosystem is crowded and no two data providers offer the same quality, quantity, breadth, or depth of data, making it essential for data seekers to carefully choose their ideal provider.
Sample of the Third Party Data Checklist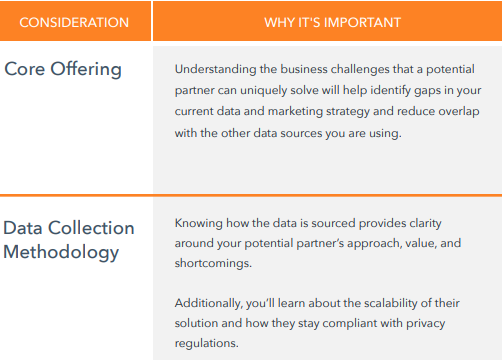 This annotated checklist outlines critical questions to ask potential third-party data providers and why these topics are important for the decision-making process. Topics include:
Company & Offering

: Coverage, scale, history, and more.

Data Handling

: Recency, location, AI, lookalike audiences, and more.

Usability

: Integrations, testing, pricing, and more.
Complete the form to receive your copy of the checklist for choosing the right third-party data provider to support your efforts.