Download the White Paper:
Building A Persistent Customer Identity: Strategies for Success
---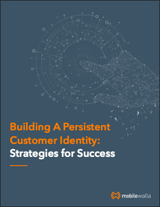 In today's digital and mobile-first world, customer expectations are higher than ever. Consumers expect brands to know who they are, regardless of channel, and they want personalized service no matter how they engage with your brand.
To remain competitive, companies must provide an experience that recognizes customers and prospects as they interact with their brand across all touchpoints, and should anticipate their wants and needs. A persistent customer identity allows marketers to gain a 360-degree view of the customer, but creating a channel-independent view comes with many challenges.
In this white paper, you'll learn:
Why developing a customer identity across channels is so difficult
What Mobile Advertiser IDs are and why they are critical to customer identity resolution
How Mobilewalla helped a luxury retailer attribute consumer behavior to digital ad spend, informing future ad dollars and marketing priorities
What steps you can take to analyze your data and successfully connect the dots
Download the white paper and learn how you can gain insight from the activity of customers and prospects, online and offline. Increase customer acquisition and retention by presenting the right message at the right time, on the most effective medium.