Download the Data Ecosystem Guide
---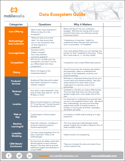 Choosing a consumer data partner can be a daunting task; the ecosystem is crowded and it is often difficult to tell which provider has the best solution to meet your needs.
This Data Ecosystem Guide outlines the critical questions to ask a potential consumer intelligence provider, starting with general company information, then methodologies, and finally, activation.
Complete the form to download the Data Ecosystem Guide and learn to effectively evaluate potential data providers.