Download the Whitepaper: Anomaly Detection In Mobile Programmatic
---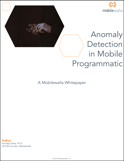 Investing too late in fraud detection risks wasting valuable advertising budget and reducing the effectiveness of marketing campaigns, overall.
However, detecting fraud in mobile programmatic advertising is complex and relies on extensive long-term analysis of traffic data.
In this whitepaper, we cover:
The most common sources of inaccurate and fraud data in BRQs

Different techniques to detect fraud across various sources

How Mobilewalla continuously runs fraud detection algorithms to flag unusual traffic patterns and deliver the most accurate

anomalous ad traffic data in the industry.
Download this whitepaper and learn how Mobilewalla's algorithms analyze traffic data to bring advertisers unmatched fraud detection accuracy to improve marketing ROI and drive successful marketing campaigns.